GOLD Lactation Conference News
This week, breastfeeding advocate Barbara Wilson-Clay reminded her colleagues from around the world that in helping promote breastfeeding, they are powerful change agents. She described how when she started advocating breastfeeding early in her career, she and her colleagues were mocked by people calling out, "here come the boob ladies!"  Now, she says, breastfeeding advocates are much more respected. 
Barbara shared her courage in an enlightened presentation on May 4. Her talk was the closing keynote for the 10th Annual GOLD Lactation Conference, and made available for free to anyone interested in learning more about promoting breastfeeding in difficult situations. After hearing her talk, people felt inspired and took home tangible ways of how they can best promote breastfeeding in emergency and everyday situations alike, no matter where they are in the world. Some participants of the Live talk commented that they are still called Boob Ladies, and they are proud of it.
Barbara Wilson-Clay set out straight facts about breastfeeding in her dynamic presentation, and busted some myths. With plenty of evidence, Barbara proved that time and time again, breastfeeding is the proven best source of nutrition for a baby, especially in crisis times. Contrary to myth, stress does not affect a mother's milk supply, which means that emergency situation or not, breastmilk is best. Busting another myth, Barbara emphasized that the composition of breastmilk is the same for all mothers — mothers in poor and rich countries alike, and regardless of nutritional intake and circumstance of the mother.
Barbara encouraged breastfeeding consultants to promote breastfeeding in their communities by going to any meeting that would affect breastfeeding, and speak their truth to encourage breastfeeding to be promoted. No invite needed, just truly caring about the subject and being able to offer insight into the best nutrition for the baby.
Barbara's contagious courage was shared with more than 300 Live attendees, who eagerly chatted amongst each other in the GOLD online chat and on Twitter (hashtag #GOLDLactation2016), sharing their own experiences in their local areas all around the world. A tragic coincidence was that as Barbara was presenting, wildfires were impacting more than 80,000 people in Alberta, home to GOLD MC Fiona Lang-Sharpe, and where two babies were born during evacuation. This coincidence only underlines the relevant impact that GOLD presentations have on the everyday life and work of GOLD participants around the world.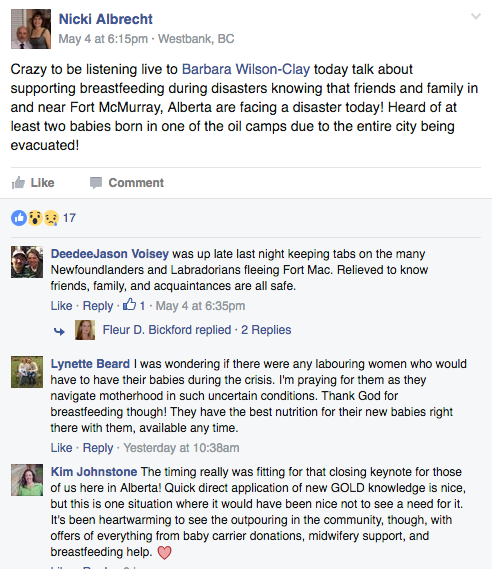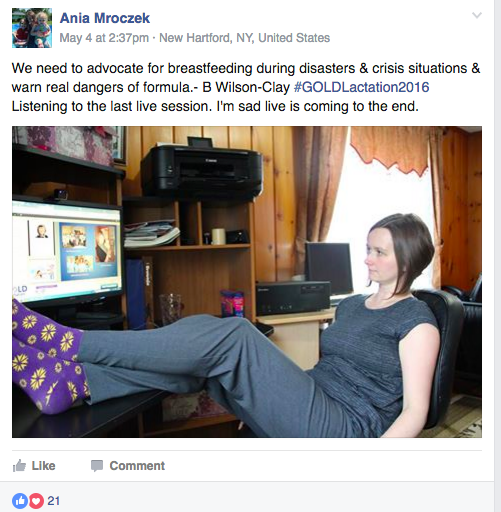 For our 10th Anniversary, we're celebrating you! The I AM GOLD campaign recognizes the 10,000+ Health Care Providers from 60+ Countries that have joined us at the GOLD Lactation Online Conference over the past 10 years. We are truly honoured to be part of such a passionate and dedicated community of breastfeeding professionals and to be able to offer education that helps you make a difference in the lives of breastfeeding Mothers on a daily basis.

Thank you for all your wonderful comments! Learn more about how you can send us your I AM GOLD! Video here.
The world's largest breastfeeding conference opened yesterday with a keynote from Maya Bunik, MD. A Paediatrician from Colorado, USA, Dr. Bunik described The Trifecta Approach that is applied at a local clinic -- a multidisciplinary team consisting of a Paediatrician, Lactation Consultant, and Psychologist. This team holistically helps a family that is experiencing breastfeeding challenges, and the solutions are comprehensive and resolve roots of problems.
As per the GOLD tradition, the keynote was open to the public, to enable as many healthcare practitioners as possible to access current breastfeeding information. The online format of the conference offered unique ways to interact that aren't possible at in-person conferences — an online chat was viewable to all during the talk, allowing people to share thoughts and expand knowledge, in tandem with the live presentation. The international audience highlighted the uniqueness of The Trifecta Approach, and many commented on desiring such an approach in their part of the world. Facebook and Twitter allowed people to share selfies and snippets of quotes from the talk. All participants were entered into a virtual draw, and books and GOLD goodies are now in the mail to some lucky participants. An online Forum exclusive to GOLD delegates will allow continued conversation with Dr. Bunik about the topic.
An advantageous aspect of the GOLD Lactation Conference is that it is entirely online, and all presentations are recorded. Conference Delegates can view presentations any time during the 8 week conference, which meets the needs of varying timezones and busy schedules of those attending. More than 2000 people will attend the 10th anniversary of this well-established online conference that specializes in meeting the needs of Lactation Consultants worldwide.

Here are some snapshots from social media that capture the day: