GOLD Speakers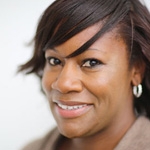 Kimberly Seals Allers, BA, MS
Biography:
Kimberly Seals Allers is an award-winning journalist, author and a nationally recognized commentator, consultant and advocate for breastfeeding and infant health. A former writer at FORTUNE and senior editor at Essence magazine, Kimberly's thoughtful and provocative online commentaries on motherhood and infant health and the intersection of race, class and culture, received over 10 million page views last year.

In addition, Kimberly specializes in issues related to African American motherhood and breastfeeding. In March 2012, she launched Black Breastfeeding 360°, a first of its-kind online multi-media content library on the black breastfeeding experience. She is author of The Mocha Manual to a Fabulous Pregnancy (Amistad/HarperCollins) a hip and informative African American pregnancy guidebook and two other Mocha Manual™ books in the series. She is the founder of MochaManual.com, a pregnancy and parenting destination and blog for African Americans and former editorial director of The Black Maternal Health Project of Women's eNews.

Kimberly is a graduate of New York University and Columbia University Graduate School of Journalism. A divorced mother of two, she lives in Queens, New York City, with her children and two turtles.
2014 Presentation Topic(s):