GOLD Speakers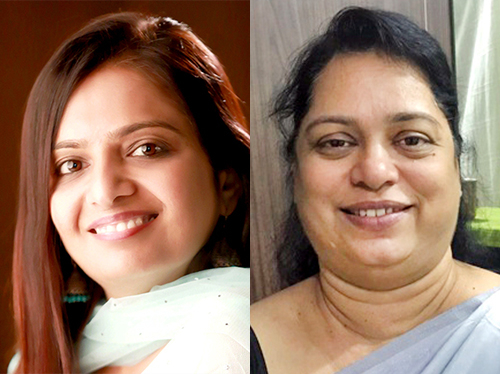 Dipti Shah, IBCLC
Ruth Patterson, RN, IBCLC
Biography:
Dipti Shah is a Mother Support Group Leader - Lactation Counsellor since 1998 & Lactation Consultant since 2010. She was trained by BPNI Maharashtra Faculty & has been providing Lactation Counselling services in multiple Institutional Hospitals & small maternity homes in Mumbai for over 2 decades. She has wide experience in community advocacy & Individual Counselling in indoor, OPD, home and online settings. She is senior trainer for BPNI Maharashtra & participated as faculty in over 100 workshops in Seven States of India & for 5 batches of '96 hrs of Lactation Specific Education' for IBLCE preparation (2010-2021). She mentored many Lactation counsellors and consultants. She is a BFHI Assessor since 2001 & has trained two groups of 'Traditional Massage Women' in basics of infant feeding and childcare. She has extensively contributed to multiple training modules, presentations & videos for BPNI Maharashtra & Maharashtra Government & UNICEF. She is also office coordinator of BPNI Maharashtra since 2004. She participated in Expanded Global Breastfeeding Partners Meeting (GBPM) of WABA at Penang, Malaysia in 2010. She was felicitated with 'Dr N.B. Kumta Award' in 2016. She exclusively breastfed her son for 6 months and continued well into 2nd year.
Ruth Patterson is Cloud Nine's P I O N E E R & most sought Lactation Specialist with 32 years of rich experience. Ruth is currently practicing at Jayanagar C9, Bangalore-India and a visiting Lactation Consultant with 8 other Cloud Nine branches locally, while als heading the 22 Pan India Cloud Nine Hospitals as the Manager Lactation. Ruth's primary role is to ensure C9 nurses complete level 1 and level 2 LSTP course (Lactation Skilled Training Program). Ruth is acclaimed for the use of Dynamic Taping (only available at Jayanagar C9) that arrests/prevents breast surgery/abscess. This Dynamic Taping practice, alongside, a Gynecologist, Pediatrician and Physiotherapist at Cloud Nine, is now under patent stage.

Ruth's 30+ years of rich experience includes maternity, allied health and nursing care, both in rural and urban sector in India & Abroad. With Exclusive 17 years of experience in Lactation services, Ruth has acquired immense practical knowledge in the last decade to identify most critical disorders of mother and babies during breastfeeding stage. Ruth is acclaimed to have expertise in a lesser-known art of re-lactation and induced lactation.

Ruth is a well sought out person for patient hearing and provides her expert comments in News columns/Media and also delivers guest lectures globally.
2022 Presentation Topic(s):