GOLD Speakers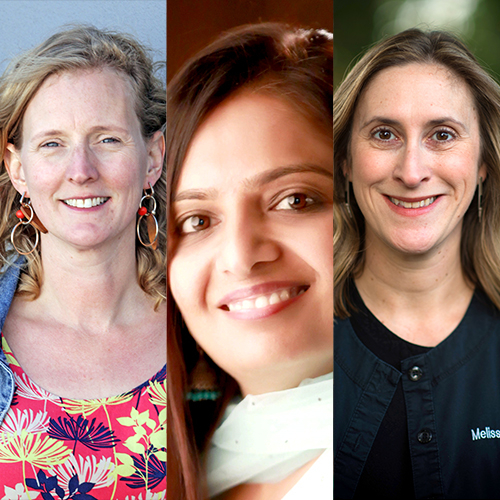 Panel Discussion 2022
Biography:
Melissa Cole is a board-certified lactation consultant, neonatal oral-motor assessment professional and clinical herbalist in private practice. Melissa is passionate about providing comprehensive, holistic lactation support and improving the level of clinical lactation skills for health professional. She enjoys teaching, researching and writing about wellness and lactation-related topics. Her bachelor's degree is in maternal/child health and lactation and her master's degree is in therapeutic herbalism. Before pursuing her current path, Melissa's background was in education and cultural arts, which has served her well in her work as a lactation consultant and healthcare educator. She loves living, working and playing in the beautiful Pacific Northwest with her 3 children.

Anna Le Grange is an International Board Certified Lactation Consultant, Registered Paediatric Nurse, Mindfulness teacher and Author. She has worked with new families for over 20 years in a variety of clinical roles. Anna brings her passion for psychology, neuroscience and mindfulness into her lactation support work and facilitates other professionals to incorporate emotional well-being tools into their own lactation practice.

Mother to 3 children, Anna breastfed her 3rd child following breast reduction surgery and experienced first-hand, the emotional challenges that so often relate to infant feeding complexities. She used her personal experiences alongside mindfulness and lactation knowledge, to create a toolbox of techniques for breastfeeding families, which she includes in her courses and book, The Mindful Breastfeeding Book. Anna believes whole-heartedly in prioritising calm and connection within our breastfeeding support practices, both for our clients and ourselves.

Anna is currently studying for a MSc in Positive Psychology at Buckingham New University and has spoken at various events including the ILactation conference and Womanfest.

Dipti Shah is a Mother Support Group Leader - Lactation Counsellor since 1998 & Lactation Consultant since 2010. She was trained by BPNI Maharashtra Faculty & has been providing Lactation Counselling services in multiple Institutional Hospitals & small maternity homes in Mumbai for over 2 decades. She has wide experience in community advocacy & Individual Counselling in indoor, OPD, home and online settings. She is senior trainer for BPNI Maharashtra & participated as faculty in over 100 workshops in Seven States of India & for 5 batches of '96 hrs of Lactation Specific Education' for IBLCE preparation (2010-2021). She mentored many Lactation counsellors and consultants. She is a BFHI Assessor since 2001 & has trained two groups of 'Traditional Massage Women' in basics of infant feeding and childcare. She has extensively contributed to multiple training modules, presentations & videos for BPNI Maharashtra & Maharashtra Government & UNICEF. She is also office coordinator of BPNI Maharashtra since 2004. She participated in Expanded Global Breastfeeding Partners Meeting (GBPM) of WABA at Penang, Malaysia in 2010. She was felicitated with 'Dr N.B. Kumta Award' in 2016. She exclusively breastfed her son for 6 months and continued well into 2nd year.
2022 Presentation Topic(s):