GOLD Speakers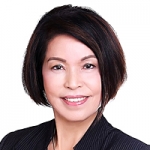 Dr. Boh Wong, PhD, IBCLC
Biography:
Dr Wong Boh Boi joined Thomson Medical Centre (TMC) in 1998. She headed the nursing education and ParentCraft department in 1999 and put in place a structured Childbirth Education (CBE) programme for the hospital, which she still teaches till today. She established the Thomson ParentCraft Centre in 1999 to educate and build confidence of young parents in Singapore. Renowned for skill in settling a crying baby, many know Dr Wong as the "Baby Whisperer".

As an experienced Lactation Consultant, Dr Wong has educated many young parents on how to provide better care for their newborn child. She pioneered the popular baby and children massage as a tool for parents to soothe agitated babies. She also conceptualised the "Thomson Dad's Enrichment Programme" to equip fathers with the basic necessary information to support their wives during pregnancy, and through to childbirth.

Dr Wong graduated with a Bachelor of Health Science (Nursing) from the University of Sydney with distinction. She later went on to obtain a Master of Education (Early Childhood Education). She recently received her Doctor of Philosophy from the National University of Singapore . She is a professional member of the International Board of Certified Lactation Consultation (IBCLC), a committee member of SIFECS (Sales of Infant Foods Ethics Committee, Singapore), and ABAS (Association for Breastfeeding Advocacy, Singapore).

Dr Wong frequently speaks about issues on pregnancy, childbirth and breastfeeding at public seminars and over broadcast media locally and Internationally . Besides contributing articles to various parenting magazines, she has also written three books (Celebrating Life: Childbirth, Childcare and Breastfeeding) available for sale at all Singapore bookstores. She has co-written a fourth book (Pregnancy to Childbirth) with Dr TC Chang and has plans to write two more books.