GOLD Speakers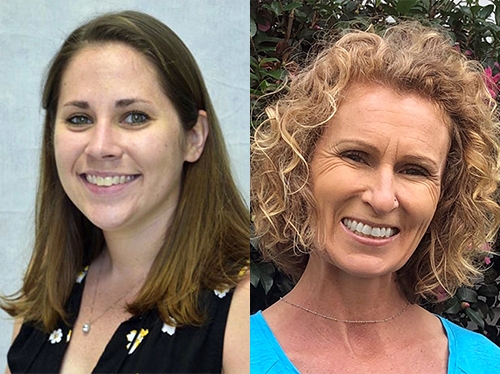 Hope K. Lima, PhD, RDN, LRD, IBCLC
Karin I. Evans, MA, RD, LDN, CHES
Biography:
Hope has always been the type of person to dive head-first into the deep end (literally - she learned to swim before she was 2!). Hope became an International Board Certified Lactation Consultant (IBCLC) in 2017, completed her PhD in nutritional biochemistry in 2018 at NC State University, and became a Registered Dietitian Nutritionist (RDN) in 2020.

In addition to owning and operating Hope Feeds Babies in Rock Hill, SC, Hope is employed full time at Winthrop University in the Department of Human Nutrition overseeing the Certificate in Medical Lactation and running a research lab that focuses on helping mothers to reach their infant feeding goals, improving access to human milk, and analyzing the nutritional content of human milk. As an IBCLC, Hope has a passion for connecting with mothers to help them to reach their individual feeding goals and advocacy for maternal health. As an RDN, Hope loves to support parents in feeding their children, whether that is traditional solids, baby-led weaning, or blenderized tube feeds.

Karin always knew that helping people would guide the course of her career. Karin's professional path demonstrates this passion as she pursued a BA in psychology from Villanova University, a Master's in Nutrition Education from Immaculata University, and is currently in the latter stages of her dissertation work towards a PhD in Health Education and Promotion from Walden University. In the past 20 years, Karin has sought opportunities that allow her to gather experience in various settings. While earning her Masters in Nutrition Education, she worked as a counselor and nutrition therapist at the world renown Renfrew Center in Philadelphia, PA. It was here that Karin adopted her view that an individual's relationship with food and body are critical to change and sustain physical and mental health.

Sharing this approach with future health-minded individuals prompted Karin to begin teaching at Winthrop University, where she has taught for the past seven years courses related to health and nutrition. During this time, Karin continues her own education through the pursuit of Doctorate in Health Education and Promotion from Walden University. Her dissertation focuses on online faculty perceptions of college student mental health concerns and if these perceptions predict the likelihood of a mental health service referral.
2021 Presentation Topic(s):