GOLD Speakers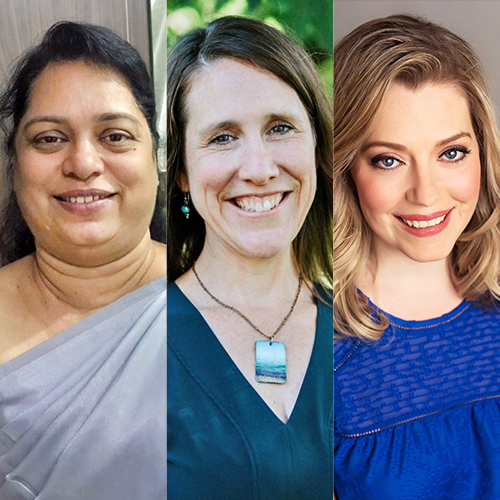 Panel Discussion 2
Speaker Type: 2023 Main Presentations
Country: GOLD
Biography:
Ruth Patterson is Cloud Nine's P I O N E E R & Most Sought Lactation Specialist with 33 years of rich experience - currently practicing at Jayanagar C9, Bangalore-India and a visiting Lactation Consultant with 9 other Cloud Nine branches locally. She also heads the 24 Pan India Cloud Nine Hospitals as the Manager Lactation.

Ruth's 30+ years of rich experience includes maternity, allied health and nursing care, both in rural and urban sector in India & Abroad. Her exclusive 18 years of experience in Lactation services, she has acquired immense practical knowledge in the last decade to identify most critical disorders of mother and babies during breastfeeding stage. She is acclaimed to have expertise in a lesser-known art of re-lactation and induced lactation.

Ruth is known for her ability to identify the most critical issues in Breastfeeding and restore/re-initiate feeds. She is acclaimed for the use of Dynamic Taping (only available at Jayanagar C9) that arrests/prevents breast surgery/abscess. This Dynamic Taping practice, alongside, a Gynecologist, Pediatrician and Physiotherapist at Cloud Nine, is patented.

Ruth is a well sought out person for patient hearing and provides her expert comments in News columns/Media and also delivers guest lectures.

Allyson Wessells is a physical therapist, International Board Certified Lactation Consultant and co-owner of Nurture Columbus, in Columbus, Ohio. She completed a Bachelor's degree in Biology from Ohio University in 1997, and Master of Physical Therapy degree from Northwestern University in 1999. After having a child in 2007, she volunteered as a La Leche League leader. She discovered a love for supporting new parents but a gap in lactation care, which led her to become an IBCLC in 2014. Her clinical approach to identifying and overcoming feeding challenges is unique with physical therapy foundations in posture, movement and reflexive function. Through presentations she endeavors to engage IBCLCs to know more about movement as related to human lactation, and PTs to learn about breastfeeding/chestfeeding as related to human development. As past-president (2019-2021) of the Ohio Lactation Consultant Association, she also advocates for equitable access to and health plan coverage for lactation care.

Meghan McMillin holds a Master's Degree in Human Nutrition from the University of Illinois at Chicago. She has been a Registered Dietitian Nutritionist (RDN) since 2013 and became an International Board Certified Lactation Consultant (IBCLC) in 2019

Meghan spent 5 years working clinically in the NICU, pediatric floor and women's units of a local hospital. In 2019, Meghan started her own private practice and consulting company, Mama & Sweet Pea Nutrition, with a focus on postpartum and infant care. The mama to two young kids with food allergies, helping other families manage food allergies, whether it's while breastfeeding, during the introduction of solids, or later in childhood, is her passion.

Meghan is a member of the International Lactation Consultant Association and the United States Lactation Consultant Association. She enjoys sharing her knowledge through social media, freelance writing and public speaking. Meghan is the coauthor of the eBook What To Eat When Your Baby Can't Tolerate Milk, Soy, or Egg Protein; Nutrition guidance for avoiding milk, soy, and/or eggs while lactating.

Meghan has presented both nationally and internationally including for GOLD learning, the National WIC Association and the Academy of Nutrition and Dietetics. In 2020, Meghan was awarded the Emerging Professional in Women's Health Award from the Women's Health Dietetic Practice Group of the Academy of Nutrition and Dietetics.
Meghan lives with her husband and two children outside of Chicago, IL. In her spare time she enjoys working out, allergen-free baking and having dance parties with her kids in the kitchen.
2023 Presentation Topic(s):