GOLD Speakers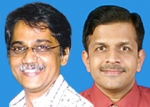 Dr. Kartikeya Bhagat, Ob/Gyn (FICOG), IBCLC
Dr. Prashant Gangal, MD, DCH, IBCLC
Biography:
Dr. Bhagat is a Consultant Obstetrician and Gynaecologist practicing at Kandivli, a western Suburb of Mumbai. He has been running Grace Maternity and Nursing Home, a Baby Friendly Maternity Service, for the past 22 years. Hon. Asst. (Obst & Gyn )at Akurli Road Municipal Maternity Home since June 1994 and Borivli Municipal Maternity Home from 1996 till 2010.

Dr. Bhagat is also a founding member and currently the Past-President of The Association of Fellow Gynaecologists, an organization representing practicing Gynaecologists from the suburbs of Mumbai. He has given many lectures, conducted workshops all over the country and contributed chapters to a number of publications on Optimising Labour and Delivery for Safe Motherhood, Caesarean Section: the Misgav Ladach technique, Active Management of the 3rd stage of labour, Post Partum Haemorrhage, Medical Disorders in Pregnancy, Breastfeeding; Breast Crawl and Neonatal Resuscitation.
Dr. Gangal is a Practicing Pediatrician in Mumbai for last 25 years. He has also been Mother Support & Training Coordinator of BPNI Maharashtra since 1995, Co-Coordinator of Mother Support Task Force of WABA since 2003 & Lactation Consultant since 2009.

Dr. Gangal was trained in lactation management by Dr. Felicity Savage and has been a breastfeeding trainer and advocate for over 2 decades. He was instrumental in establishing the first Mother Support Group in India (1995) and played a key role in training 500 Traditional Massage Women in Mumbai , Breast crawl rejuvenation (video, dossier and website), training thousands of Government health care providers in 5 Indian States with an innovatively written module in collaboration with UNICEF and organizing IBLCE exam for the first time in India (2009). He made significant contributions to LLLI publication 'Hirkani's Daughters'

Dr. Gangal has multiple publications to his credit and was a speaker at LLLI conferences in San Francisco and Chicago. He was honored with Lifetime Achievement Award by Mumbai Breastfeeding Promotion Committee in 2008 and WABA Secretariat award in 2010.
2014 Presentation Topic(s):