GOLD Lactation Conference News
We're gearing up for another stellar conference here at GOLD Lactation 2020 and we can't wait to share these incredible presentations with you! Join us online from March 30 to June 1 and elevate your practice with the most up-to-date information from international experts.
We're delighted to be joined by Closing Keynote Speaker Mona Liza Hamlin, MSN, RN, IBCLC live on April 27. Join us for either of the live presentations of this webinar and also access the recording when you reserve your free seat here: https://www.goldlactation.com/conference/speakers/closing-keynote-presentation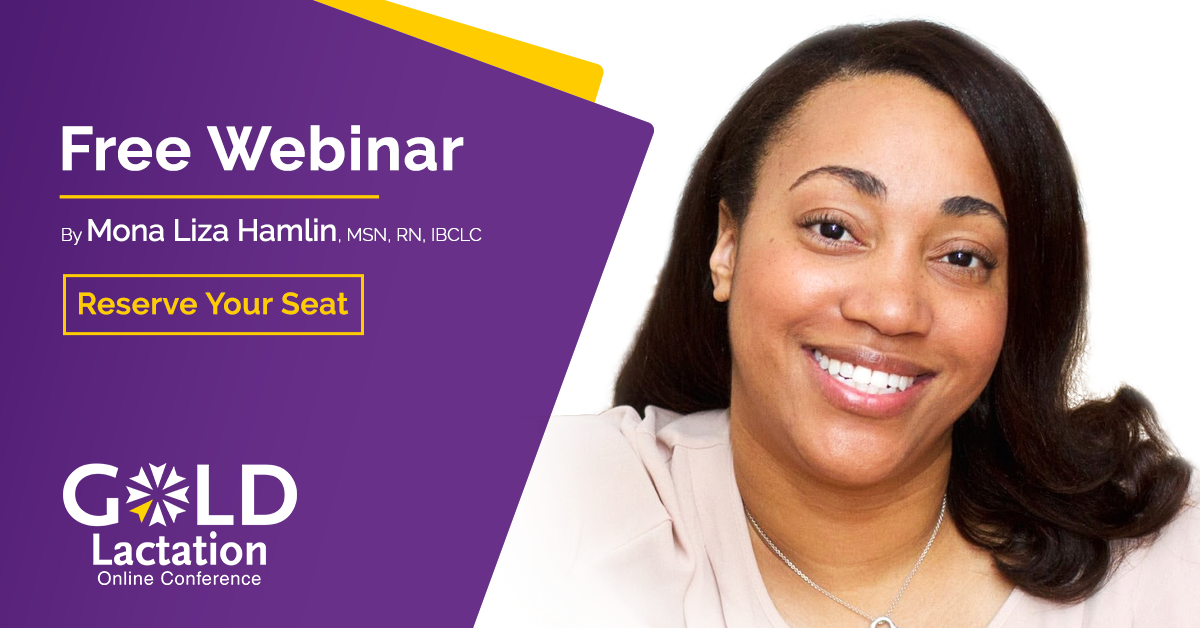 Mona Liza Hamlin is the nurse manager of Perinatal Resources and Community Programs for the Women & Children's service Line at Christiana Care Hospital in Newark, Delaware. She also serves as Past-Chair to the United States Breastfeeding Committee, is a founding member of the National Association of Professional & Peer Lactation Supporters of Color, is a member of the Delaware Healthy Mother & Infant Consortium, and is a board member for the Breastfeeding Coalition of Delaware. In her work, she strives to ensure that all mothers have access to a full scope of perinatal care, support, and resources.
During "Breastfeeding as a Preventative Care Change Model: How to Affect Change", we'll explore the powerful impact of breastfeeding. Mona Liza will delve into how linking breastfeeding and human milk in efforts made outside of the field of lactation will improve overall efforts to improve maternal-child health. She'll also invite us to consider how we can engage with non-traditional stakeholders and make connections where breastfeeding isn't traditionally included.
We invite you to also join us for our full GOLD Lactation 2020 conference, with 28.5 hours of accredited education from 27 top expert speakers. To take your conference experience even further, we also offer the option of including Breastfeeding and Medically Complex Infants and Complex Medical Issues in the Lactating Parent each with 6 hours of focused lectures.
Early Bird Registration is open until March 16, so register now to access discounted rates: https://www.goldlactation.com/conference/registration
With options to join live presentations and also access recordings at your own pace, learning the latest in the field of lactation has never been easier! Fit your education around your busy schedule, avoid traveling far from clients and family, and pay a fraction of the cost of in-person conferences.
We look forward to seeing you online soon with colleagues from around the globe at GOLD Lactation 2020!