GOLD Lactation Conference News
We're gearing up for another incredible year at GOLD Lactation Online Conference! Packed with the latest research and clinical skills, this industry-leading event is your source of information, inspiration, and connection. Join us online from March 30 to June 1 and take your practice to the next level
We're celebrating our 14th anniversary at GOLD Lactation 2020 with a stellar line-up of experts! The main conference includes 27 international speakers with 28.5 hours of accredited education. Join live presentations, watch recordings at your own pace, ask questions during live Q & A sessions, and connect with colleagues from around the globe in our Facebook discussion group. With our accessible and affordable online format, you can enjoy all the education without the travel and high cost associated with traditional conferences.
Early Bird Registration is open until March 16. Register today and take advantage of special discounted pricing: https://www.goldlactation.com/conference/registration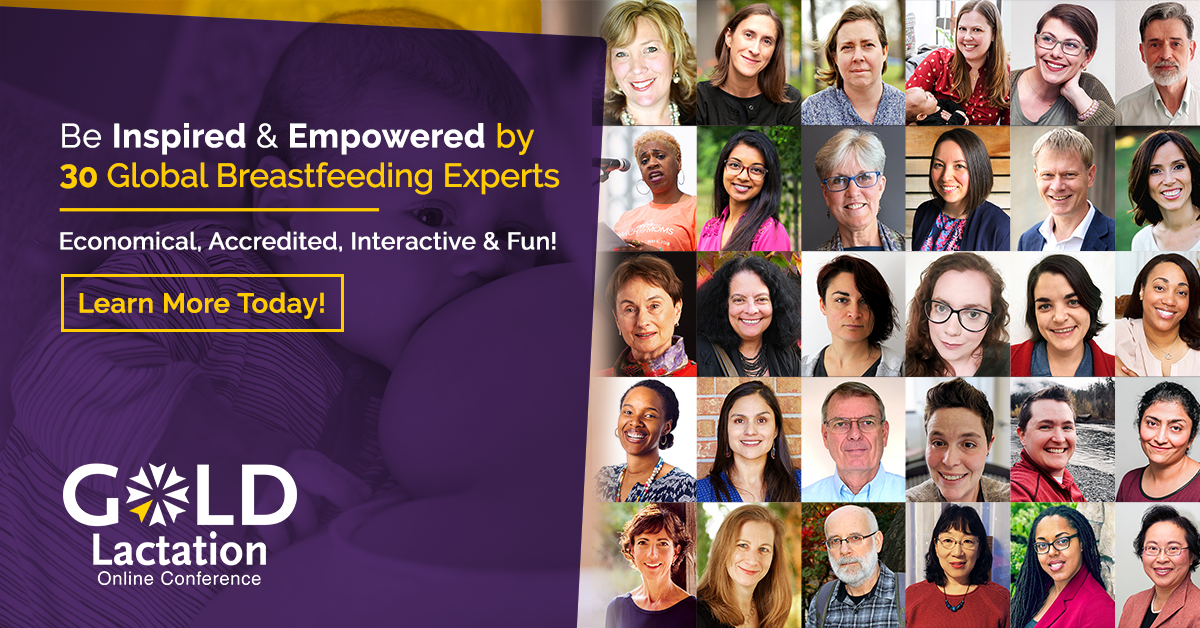 We're thrilled to welcome Bryna Sampey, IBCLC as this year's Opening Keynote Speaker! She'll help us kick off the conference on March 30 with her live presentation "Breastfeeding With Ease: The Impact of Infant Reflex Emergence and Integration".
Our other live days include presentations on lactation anaphylaxis, musculoskeletal issues and breastfeeding, insufficient glandular tissue, alcohol consumption during lactation, the effects of breastfeeding on sexual intimacy, facilitating breastfeeding in incarcerated women, relactation, maternal hyperlactation syndrome, and supporting lactation in the NICU.
On April 27 the fabulous Mona Liza Hamlin, MSN, RN, IBCLC will join us with her Closing Keynote Presentation. "Breastfeeding as a Preventative Care Change Model: How to Affect Change" will offer an incredible opportunity to explore this important topic.
To take your learning experience even further, we're pleased to offer two in-depth lecture packs. Our Breastfeeding and Medically Complex Infants Lecture Pack brings you six presentations focused on supporting human milk feeding when the infant requires extra care and expertise to establish or maintain breastfeeding/chestfeeding. Additionally, our Complex Medical Issues in the Lactating Parent Lecture Pack includes six more unique presentations zeroing in on providing knowledge and skills to help when medical issues in the lactating parent pose challenges.
We look forward to seeing you online from March 30 to June 1 for this practice-changing event. Get ready to learn live, watch recordings, and enhance your learning with all of our interactive elements!